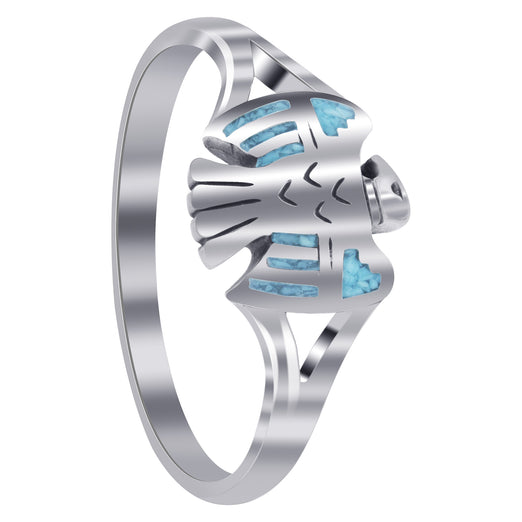 A beautifully designed eagle design with turquoise inlay ring.
The timeless rustic sensation you get from the jewelry is second to none.
The exceptional silver also adds to the aesthetic value of this item.
This ring has a measurement of 10 mm top and 2 mm bottom.
Each item arrives in a classic box for nice gift presentation and storage.
The image may show slight differences to the actual stone in color and texture. Please Allow the Slight Color Difference!
Item# : GR360-7
Color : Blue
Gender : For Her
Metal : Sterling Silver
Stone : Turquoise
title_tag : 925 Silver Southwestern Eagle Turquoise Gemstone Inlay Ring #GR360
Shipping
We prioritize customer satisfaction. Our shipping process guarantees that 99% of orders are dispatched within 24 hours, excluding weekends. Unlike other companies, we do not drop-ship any items. Once your order is received, we assign utmost priority to ensure prompt delivery.
Return Policy
We offer a 30-day hassle free return policy for all products. If not satisfied, customers can return the item within 30 days for a full refund or exchange by returning the item in original condition. The returned item must be in our possession within 30 days of the date you received it.
Related Products