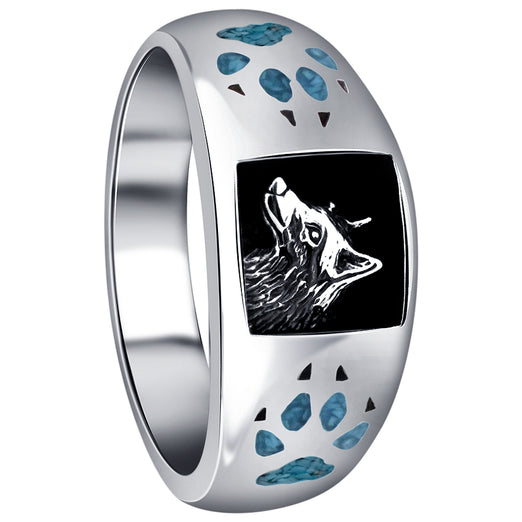 Display your love and admiration for the majestic wolf with this stunning wolf ring.
Featuring two beautiful Turquoise Gemstone paw print inlays facing inwards towards the wolf profile, this ring is made with .925 sterling silver.
This ring measures 10mm wide and looks and feels great.
*This product is not Indian made or an Indian product under 25 U.S.C. 305 et. sec.
Item# : TBRS018-6
Color : Blue
Gender : Unisex
Metal : Sterling Silver
Stone : Turquoise
title_tag : Turquoise Gemstone Sterling Silver Wolf Paw & Claw Ring #TBRS018
Shipping
We prioritize customer satisfaction. Our shipping process guarantees that 99% of orders are dispatched within 24 hours, excluding weekends. Unlike other companies, we do not drop-ship any items. Once your order is received, we assign utmost priority to ensure prompt delivery.
Return Policy
We offer a 30-day hassle free return policy for all products. If not satisfied, customers can return the item within 30 days for a full refund or exchange by returning the item in original condition. The returned item must be in our possession within 30 days of the date you received it.
Related Products
$98.99